May 30th, 2011
With the help of the good folks at Magnolia Editions, I've been working on a new celestial clock. But this time, its an Orrey – a mechanical model of the solar system. Below is a quick pre-visualization of what it might look like.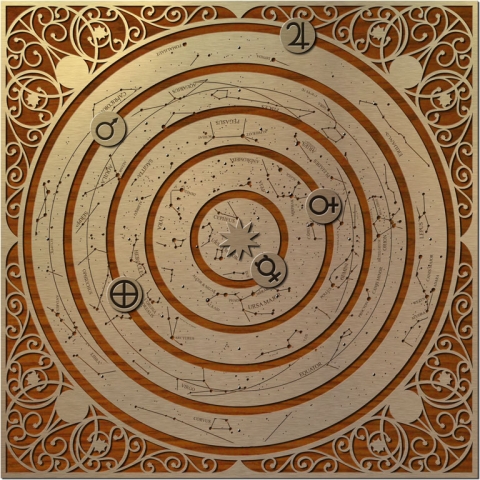 Unlike a traditional orrery, this one is designed to be flat, so it can be hung on a wall, and will display the first 5 planets in the solar system: Mercury, Venus, Earth, Mars and Jupiter.
The complexity of the design has exploded, however, and its becoming a bit overwhelming. Here's a wire-frame of the illustrator artwork: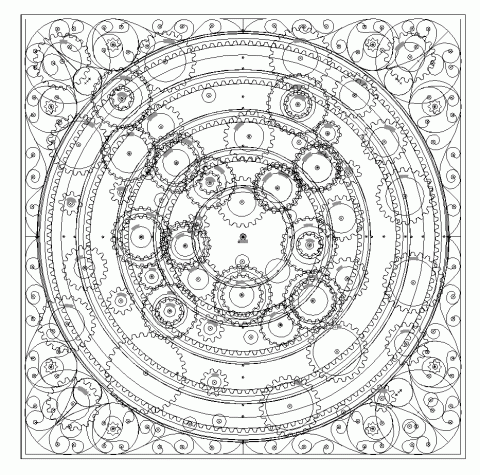 Each planet is represented by a ring-gear. Each ring-gear is part of a drive-train that is powered from the center Sun-gear. Five planets means 5 separate drive trains… thus the complexity. Here's a prototype of the current design. You can see the ring gears for Jupiter and Earth and, below them, the underlying gear-trains that power each of the ring-gears. The mechanism is made of laser-cut plywood: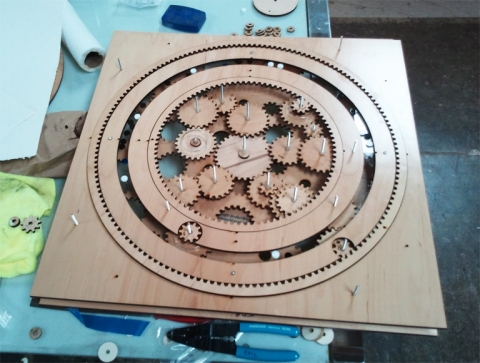 Here's a video of the mechanism being test-fitted together for the first time:
Of course, now that I'm at the prototyping stage, minor details such as the laws-of-physics are coming into play. Torque, friction and inertia may scuttle this design, as may the sheer complexity of the design.
Stay tuned…